Commissariat général à l'égalité des territoires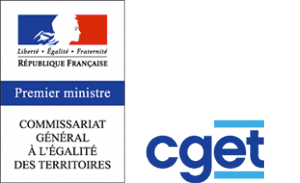 Attached to the Prime Minister's office, the Commissariat général à l'égalité des territoires (CGET), is tasked with designing and implementing the national policy for the equality of the territories and to ensure its follow-up and interministerial coordination.
In close proximity to and working intimately with the local and regional authorities as well as the regional and departmental prefects, the CGET aims to rekindle solidarity among all the territories. It also fosters the abolition of a sectoral approach to public policy in favour of a transversal and decompartmentalised reflection on themes such as access to public services, the development of the capacities of each territory, keeping pace with economic trends, the momentum of ecological transition, urban policy or even sustainable and non-transferable local job creation.
The CGET is responsible for conducting the complete reform of urban policy originating in the planning act of 21 February 2014, through comprehensive and coherent action; thus, adopting a participatory approach, it is mobilising the ordinary-law policies, pursuing the execution of new urban contracts on an intermunicipal scale, steering the overhaul of intervention infrastructures, launching a new national programme of urban renewal and will set up "citizen advisory boards" in each district specified as a priority in the urban policy. The collective mobilisation of State services, elected officials, institutions and players on the ground in order to effect concrete change in the lives of the inhabitants of each district.