Conseil supérieur de la Formation et de la Recherche Stratégique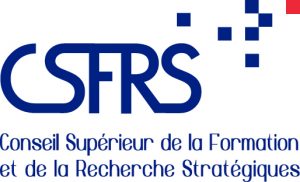 Established in 2009, the Conseil supérieur de la Formation et de la Recherche Stratégique (CSFRS) is dedicated to the support, coordination and implementation of initiatives in the areas of strategic research and training in the fields of defence and security in order to enable the development and upgrading of world-class reference instruments.
The CSFRS provides its services to research teams, training organisations, and, in general, to all parties interested in security and defence issues.
To this end:
It strives to develop research and training activities by fostering interaction, on one hand, between the various disciplines or fields involving security, defence and justice, and on the other hand, the public or private bodies in charge of them;
It funds research programmes as well as the reception of high-level researchers or foreign experts;
It aids in the establishment of European and international partnerships with bodies or institutions in charge of similar themes;
It fosters the pooling of resources and aids in the promotion of research findings;
It promotes a culture in which the studies as well as the findings are evaluated;
It promotes French strategic thinking abroad and takes initiatives to increase French participation in strategic research projects launched by the international community or the European Union.
The research projects led or supported by the CSFRS are designed to provide French decision-makers with prospective subjects for reflection within the context of a multidisciplinary in order to afford them a much broader vision of tomorrow's strategic parameters.